I rarely give a thought to cupcakes.  I try to avoid them altogether but cupcakes do have several advantages after all, like built in portion control and unlimited mix and match for those of us who like variety.  If you are lucky enough to have a good bakery nearby  you can also take yourself out for an inexpensive indulgence too. Ask them to put your cupcake in a box so it 's more like a present and bring a bow.
Years ago, we had a silly party with the kids in the neighborhood and for desert I made  a big platter of cupcpakes.   When our family friend Lisa showed us how to get frosting in every bite, it forever changed our cupcake eating habits.
Step 1 – get yourself a cupcake.
Step 2 – remove the wrapper and separate the top 1/2 from the bottom, use your fingers.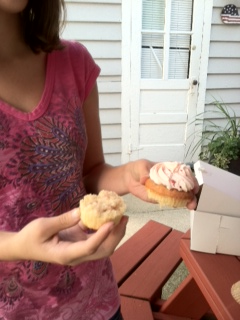 Step 3 –  Place the bottom half on top of the frosting.  It should now  look like a whoopie pie.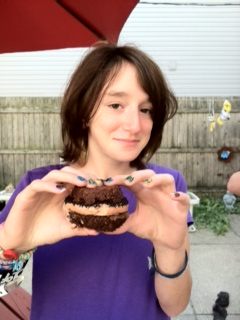 Step 4 – Take a bite and  enjoy!
A new cupcake shop recently opened near our home and my oldest daughter has become a  devoted  customer.   Her favorite  flavor is Peanut Butter Explosion but mine is Pancakes and Bacon.   I was a little wary of the crumbled up bacon on top but as it turns out it's a really gOOd cupcake. Try the Frosting In Every Bite technique for yourself on any old cupcake and tell me if you do.
If you're ever in Red Bank, NJ stop in at the Cupcake Magician  and find your own fave.
And special thanks to you Lisa for being a really cool friend and neighbor and sharing this gOOd idea.  I miss you all the time but I'm happy you settled so well in your new state.